The Simphony POS system by Oracle is specifically designed to provide comprehensive restaurant management solutions. Simphony is trusted by a wide range of successful food and beverage establishments worldwide, including local cafes, renowned fine dining restaurants, global fast-food chains, sports stadiums, and theme parks. Serving as a unified cloud-based POS platform, it enables restaurant owners to efficiently enhance their online and on-site operations in real-time, accessible from any device.
The Ideal POS Solution for Every Type of Restaurant
Simphony aids restaurants in providing exceptional service by processing billions of transactions annually. With its cloud-based flexibility, robust integration capabilities, and cost-effective monthly pricing options, Simphony is adaptable to meet the distinct requirements of both individual restaurants and large-scale global chains operating in 180 countries.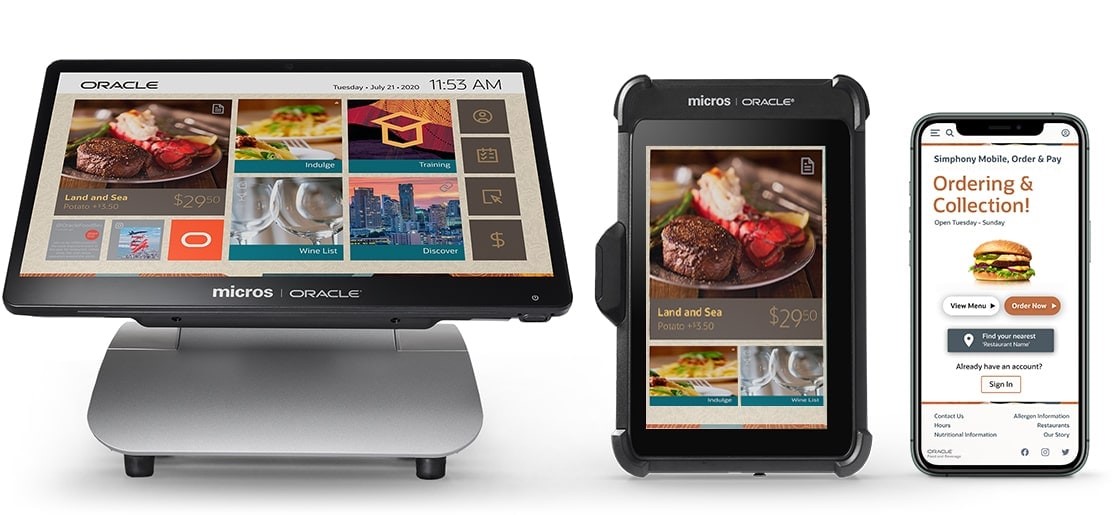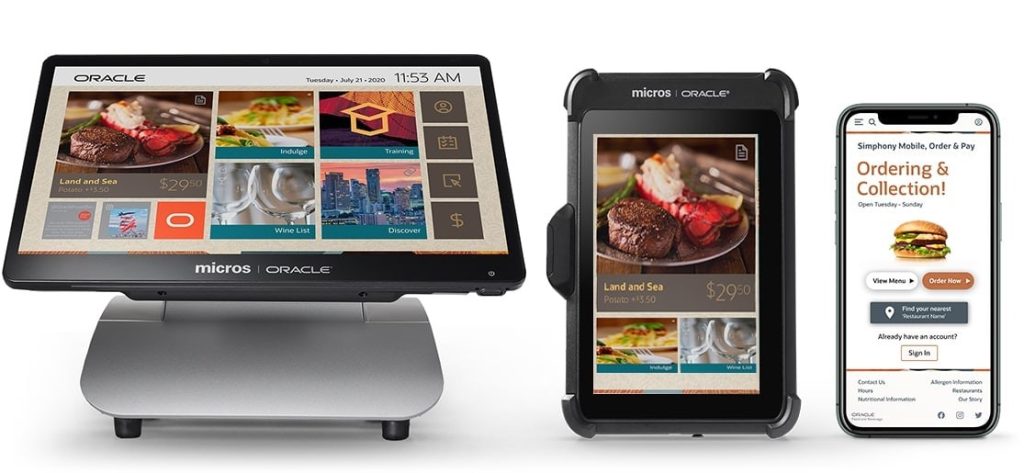 Simphony places interactive, up-to-the-minute data within easy reach for both your customers and your staff. Ordering becomes an intuitive process, and communication with the kitchen happens instantly. Updates regarding daily specials, menu particulars, and tailored promotions are automatically disseminated to every interaction point. Engineered to support a wide range of dining concepts, from fast-casual to upscale establishments, Simphony empowers you to streamline and expand your business operations.
Real-time table management
Simphony's user-friendly and adaptable table management interface enhances operational efficiency and customer satisfaction, facilitating faster table turnover and revenue targets achievement. This feature equips servers with the capability to monitor the progression of each dining experience and track the duration guests have occupied each table. Additionally, Simphony provides service alerts, aiding staff in delivering more attentive service to every guest.
Simphony encompasses a comprehensive reporting and analytics suite. Ready-made dashboards offer valuable insights into trends, forecasts, and potential opportunities, accessible through a desktop web browser or our mobile InMotion app.
You can access reports categorized by employee, location, region, restaurant type, or across all your establishments collectively. Thanks to mobile push notifications, you'll stay informed and never overlook any updates or alerts from any of your locations.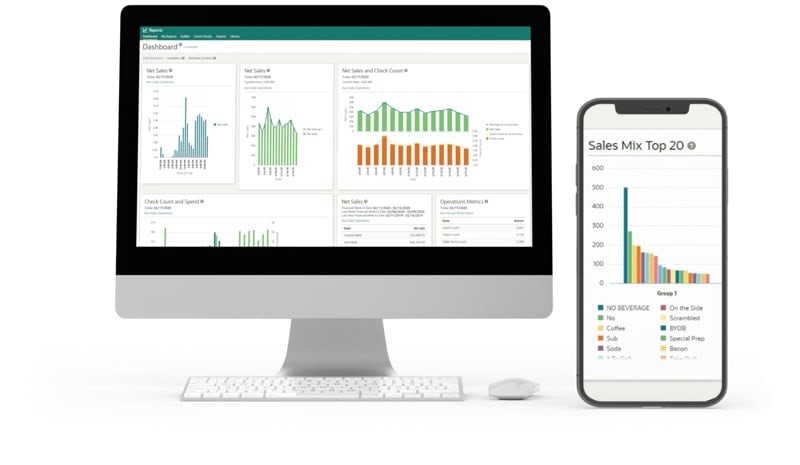 Restaurant POS hardware that's beautiful and built to last
Introducing the Oracle MICROS Workstation 8 Series: a sophisticated, meticulously crafted hardware solution designed for use in restaurants and entertainment establishments. This innovative point-of-sale system combines a distinctive architectural design with modularity, seamlessly uniting aesthetics and functionality. It offers a range of configuration choices to cater to diverse customer needs.
Powered by Simphony POS Software
Oracle's hardware and software are engineered to match your dedication and resilience. Our point-of-sale terminals and mobile devices are built to endure spills, inclement weather, continuous usage, and security risks. Supported by Oracle's Simphony POS software, our comprehensive point-of-sale systems empower restaurants to enhance their service speed and quality, whether in-house or online. These systems enable you to examine sales patterns, predict inventory needs, revise menus, oversee staff, and seamlessly integrate with a diverse range of popular third-party applications.
Meet the Oracle MICROS Workstation 8
The Oracle MICROS Workstation 8 Series represents the most recent inclusion in Oracle MICROS' array of hospitality hardware solutions. Boasting a slender, 14-inch touchscreen display and an inviting platinum finish, the Workstation 8 seamlessly combines its contemporary, elegant appearance with the unwavering reliability that Oracle MICROS customers have come to rely on.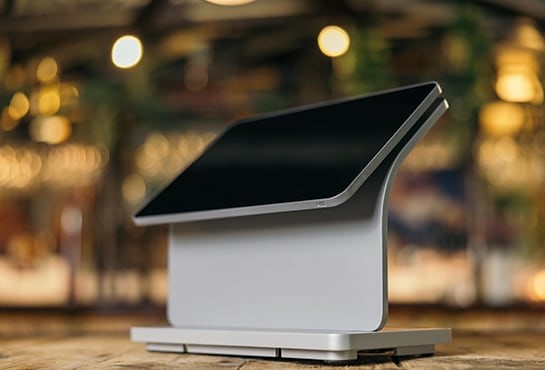 POS Hardware : Workstation 6 series
The restaurant industry places significant demands on technology. You require point-of-sale hardware equipped with contemporary features while being capable of enduring the rigors of daily use. Serving as our flagship POS terminal, the renowned Oracle MICROS Workstation 6 is meticulously designed for the restaurant setting. It provides the essential processing power, payment functionality, and resilience necessary to ensure a seamless customer experience. Additionally, it boasts an appealing appearance, characterized by a sleek, modern design and a compact footprint. Key attributes comprise:
Your choice of Windows or Linux operating system

Large, durable screen for easier order entry

Dual-core processors for quick response and transaction speed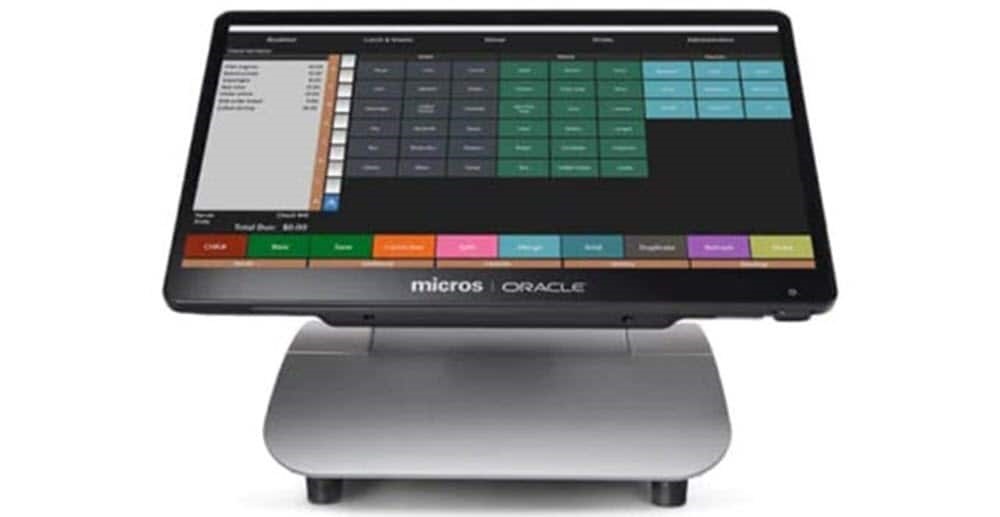 POS hardware: Workstation 3 Series
This highly resilient 10-inch portable restaurant POS device is engineered for long-lasting performance, far surpassing the durability of consumer-grade tablets. It excels particularly in high-volume concession stands, sun-exposed poolside bars, food trucks, and other challenging remote environments where harsh conditions prevail and access to electrical outlets may be limited. The Oracle MICROS Workstation 3 is equipped with a range of peripheral ports, a magnetic stripe reader, and a customer-facing display. Furthermore, there are additional customization options available, such as:
Full-shift batteries

Wi-Fi connectivity

Fingerprint reader

Multiple mounting choices
Copyright © 2023 UAT All Rights Reserved.