Oracle Hospitality Materials Control
Oracle Hospitality Materials Control is a holistic procurement, inventory, and cost management system tailored specifically for the hospitality sector. This solution effectively oversees all property inventory, furnishing vital real-time data on aspects such as cost of sales, revenue effectiveness, current stock levels, order recommendations, and stocking needs. It streamlines daily operations and enhances food cost management within the industry.
Oracle Hospitality Materials Control is a comprehensive procurement, inventory, and cost control system customized to meet the requirements of the hospitality industry.
The solution manages all property inventory, providing essential real-time information on cost of sales, effective revenue, stock on hand, order proposals, and stocking requirements, and bringing efficiencies to daily workflow and food cost management.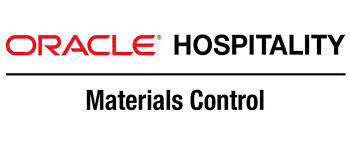 Efficient Food and Beverage Management.
Real-time Analytics.
Enhanced Operational workflow.
Purchase manager workflow.
Authorization.
Oracle Data Sheet.
Preferred inventory management solution for hotels.
Real-time data tracking for cost of sales, stock on hand, order proposals, and stocking requirements.
Comparison of actual to planned stock usage.
Transmission of purchase orders from within the application via e-mail, fax, and B2B interface to suppliers to expedite ordering/receiving processes.
Authorization workflow to efficiently control potential expenses.
Ability to compare prices and assess their impact on planned purchases.
Supplier assessment with bid management.
Adjustments solution to manage complex freight, duty, and custom add- on costs.
Tracking of critical information for Hazard Analysis Critical Control Point customers, such as temperature, expiration dates, transfer batches, and individual batch counts.
Mobile solutions for orders, receipts, transfers, and inventory counts.
Support for multiple tax schemas, foreign currencies, and translation of master data and the application itself.
Out-of-the-box report set to analyze transactions with option to preview, print, e-mail, and export to Microsoft Excel.
Oracle Hospitality Materials Control enables unprecedented effectiveness in inventory management. Daily sales data is automatically imported into the system from the point-of-sale system and will diminish stock based on associated recipes. Comparison with actual stock usage allows for quick management intervention when a discrepancy is revealed. The capability to log and monitor waste and spillage for each outlet enables you to identify and track patterns. Multilevel purchasing authorization allows for cash flow monitoring to minimize overstocking.
Real-time data provided by Oracle Hospitality Materials Control enables a variety of analyses, from cost of sales to revenue. Stock on hand, ordering templates, and par lists are also available. Information can be conveniently reviewed by outlet, property, or entire portfolio. Data validity is increased for all departments with an interface to the back office system. In addition, Oracle Hospitality Materials Control streamlines month-end reconciliation and accounting processes.
Oracle Hospitality Materials Control streamlines daily processes related to purchasing, supplier and price management, and internal requisitions. To expedite the ordering and receiving process, you can transmit purchase orders directly to suppliers from within the application via e-mail, fax, or a B2B interface. Using the Oracle Hospitality Materials Control web client, you can implement paperless internal requisitions.
Guides management toward making inventory purchasing decisions that best meet cost objectives.
Reduces costly food expenses by tracking waste and loss.
Provides cost savings with detailed inventory tracking.
Shifts the focus of your staff from inventory maintenance to providing an enjoyable guest experience.
Allows for faster and more accurate transaction processing with mobile solutions.


Address :
9th Floor G. Finivilu
Dhonadharaadha Hingun Malé 20109
Republic of Maldives
Tel: +960 332 3377
sales[@]hospitalitytechnology.com.mv
Copyright © 2023 UAT All Rights Reserved.